Welcome to St Kilda Beach!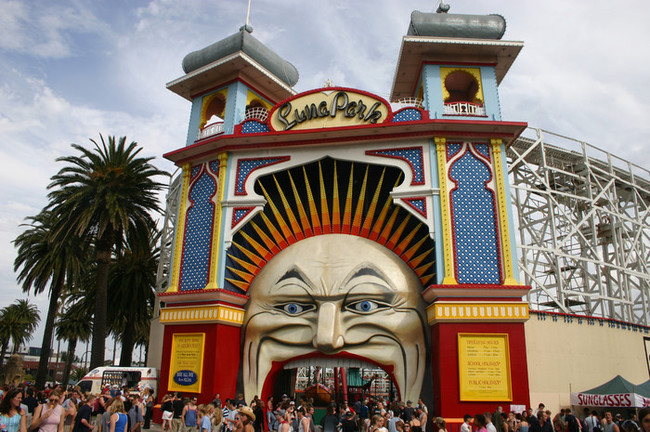 St Kilda is a bayside suburb. It is located on one of the more picturesque points of the Bay, just a short distance from the city. It has clean safe sandy beaches, despite formerly being known for the plentitude of prostitutes and druggies. St Kilda is a remarkable place which is a favourite for visitors to Melbourne and locals alike.
One hundred years ago St Kilda was one of the most fashionable suburbs, with exotic huge mansions and guest houses being created. Mid 20th century it became was synonomous with crime, prostitution and drugs. but now with the massive increase in housing prices and the close proximity to the city St Kilda has become one of Melbourne's most fashionable suburbs.
St Kilda is alive with development with new apartments, new restaurants, cafes, and a new exciting image. It is a mecca for tourists and Melbournians alike. Or just people watching.
Luna Park is an old seaside amusement park with working wooden roller coaster and many other loopy rides.
On Sunday St Kilda hosts an art and craft market along the Esplanade. The Espy hotel is there too, overlooking the beach. There is lots of night life, at places like the Prince and the George.

Buy a $25 gift voucher for the BeachComber Cafe (at the St Kilda Sea Baths) - for only $2!
Fitzroy St Businesses, Restaurants & Bars
?? Arancini
10 - Mash -
?? - GBC - gourmet burgers
?? - Poppy's Thai - restaurant
?? - Pelican -
42 - Tolarno - hotel / restaurant
?? - Cacao - chocolate cafe
?? - The Saint
60 - Lionel
60 - Metropol
60 - Termini - restaurant
62 - Wagamama -
64 - IGA - supermarket

The Esplanade

Grey Street

?? - Gourmet Sandwich & Juice
?? - Traffik - night club

Acland St (Fitzroy St end)

?? - Il Fornaio -
?? - Azalea -
?? - Chinta Blues -

1 - One Fitzroy Street - restaurant
3-5 - Sapore - restaurant
7 - Bar Santo -
9 - Whisk / My Restaurant Rules - closed for good
11 - Rebar - bar
11A - Fritz Gelato - ice cream
15 - 7-Eleven
? - Superbo
23 - The Street Cafe -
25 - Cafe Barcelona -
27 - Andoniou Milk Bar - friendly convenience store
29 - Prince of Wales - aka "The Prince", pub
3/29 - l'otel - restauran & bar
? - Tien Tien
? - Loco - coming soon
31 - Cafe Di Stasio - fine Italian
31C - J'Lin - cakes and sandwiches
33 - La Porchetta - budget Italian
35-37 - The Marque - boutique hotel
41 - Lew Solley Pharmacy
43a - Felix Bar & Restaurant -
45 - St Kilda Cellars - the only thing cheap is $10 jugs
45A - Boost - juice bar
47 - NYPD Pizza - takeaway US-style pizza
1/49 - The Hard Work Café -
51 - Leo's Spaghetti Bar - been there forever...
57 - Coles Express - reasonable prices, friendly staff
?? - BBNT - burritos, burgers, nachos & tacos
61 - Area 61 - nightclub, formerly known as Joey's
61A - Ali Baba - kebabs & falafels
63 - Easystay The Bayside Motel - above Area 61....
63A - Veg Out - vegetarian
6/63-73 - Subway
65 - Aussie & French Bakehouse - open 24 hours
3/63-73 - Hungry Time - basic McDonald's clone
73 - Thai Panic Cafe - shame about the name
?? - Another 7-Eleven
77 - Guardian Pharmacy -
79-81 - Monroes - restaurant, food is nothing special
83 - McNicks Souvlaki & Chicken Bars
?? - Swidz - fish & chips
83B - Archies - takeaway pizza & baked potatoes
85-87 - Topolinos - top pizza & pasta
?? - St Kilda Pumping - juice bar
89B - St Kilda Sushi & Noodle -
?? - Blue Tongue - juice bar
91 - Chronicles Bookshop -
97 - Cafe Ninety Seven -
99-101 - Cushion Lounge -
107 - Number 1 Food store - sad excuse for a convenience store
109 - Robarta -
113 - Esplanade Newsagency -
115 - Michael Danby MP -
121 -YHA Travel -
123 - Amcal Pharmacy -
125 - The George Hotel -
127 - George Public Bar - monday night trivia!
129 - George White Bar/Gallery & Birdcage
?? - BirdCage
133 - Lobby Bar
135 - George Cinema -
135 - Grocery Bar
139 - Danish Blue Adult Centre -
141 - Cafe Banff -
149 - Baker D Chirico - "word of mouth" bakery
151 - Mikoshi - Japanese restaurant
155 - Cafe Dang - Vietnamese restaurant
157A - Cafe Ataglio - pizza restaurant
157 - Bar Corvina -
159 - Cleopatras - excellent falafel
161 - Cafe Cavalli -
169 - The Ritz - backpacker hostel
169 - Elephant & Wheelbarrow - ye olde English pub