Cafe Di Stasio
31 Fitzroy St
9525 3999
From Visit Victoia:
Ronnie Di Stasio brings style, consistency and outstanding Italian cuisine to bayside Melbourne. One of the older restaurants in town, di Stasio cares nothing for food fashion or whims, but revels in quality staff, exceptional ingredients and fine hospitality. The set lunch menu at $25 offers a taste of better things to come at dinner when the kitchen cranks up the heat with quality Italian dishes such as braised octopus, stuffed calamari, seared yearling beef au gratin with Mediterranean salad or the outstanding home made pasta, such as spaghetti con melanzane, prawn agnolotti or penne with pan-seared chicken livers.
From Melbourne Diners Guide:
jason M Jones writes (visited 10/10/99):
Excellent...every Restaurantuer should pay a visit to Ronnie Di Stasio s Cafe in St. Kilda. Congratulations... also your marketing is to be desired .. a bizarre concept that actually works Bravo..!!
Recommended entree is Antipasto
Recommended main course is Stuffed Calamari

Paul Pellegrino writes (visited Tue Sep 26 22:27:30 2000):
an excellent restuarant by far the best italian cuisine in melbourne
Recommended entree is crayfish omlet
Recommended main course is rigatoni
Recommended dessert is profittor rolls

mark writes (visited Fri Oct 12 21:12:14 2001):
Comes with great recopmmendation, butpurports to be something that it is not. Melbourne reviews are still based on whongoes there not on the food, anbience, etc.

Cathy G writes (visited Sat Oct 27 22:51:34 2001):
Strongly advise that this is not a venue for non-regulars or locals.Service was extremely poor. Worst restaurant experience ever had. Very dissapointing after two recommendations!
Recommended entree is Omlette

Ann-Maree McShanag writes (visited Thu Dec 6 11:23:39 2001):
A very special restaurant. The food is the feature. Flavoursome dishes which are quite individual. Waiters service is almost theatrical - their knowledge of the menu and wine list is impressive. They are also great fun. The prices make this a special occassion place only. The food really is wonderful.
Recommended entree is Lobster Omlette
Recommended main course is Prawn Agnolotti
Recommended dessert is Lemon Crepes

Simon Craig writes (visited Mon Dec 10 02:55:30 2001):
The most wonderful dining experience had in a long time. My girlfriend and I had just returned to Melbourne after spending time in Queensland, and it was great to be reminded that good food could be obtained (just not in Northern Queensland). The service was by far the best service we had ever had, and in respect to it being expensive, go for luch! The lunch special is fantastic value. And after spending the last 6 months in England, the last thing people should be complaining about is the cost - try going out to dinner in London!!
Recommended entree is Chicken liver penne
Recommended main course is Lamb Shanks

Daisy Ferrier writes (visited Tue Sep 10 20:51:14 2002):
Simply one of the best dining experiences I have had! The menu and wine list was amazing, catering for all tastes and the staff were friendly and extreamly knowledgable. If you are lucky enough to have the white chocolate and mascarpone tart from the specials board for dessert, it is a must have! The best dessert that I have EVER had!
Recommended entree is Antipasto platter
Recommended main course is Lamb Shanks
Recommended dessert is White chocolate and mascarpone tart with pistachio

Suzanne Lim writes (visited Mon Sep 22 09:15:47 2003):
Best Italian restaurant in Melbourne? Perhaps you haven't dined on a Wednesday night! My friend and I dined at the renowned Cafe Di Stasio and had a unique experience. Upon ordering the 'spring dinner menu' we were treated like second-class citizens by an arrogant waiter. It started with the bread - since when are you unlucky enough to get the ends of a baguette...twice? Reordering drinks took several attempts at making eye contact with the neglectful waiter. We waited close to an hour for our 'slow cooked pot roasted chicken, falling off the bone'. Falling off the bone it was not, with three measly pieces of chicken ribs swimming in a sea of salty sauce, the chicken meat was sparse and pink, with alot of skin and bone, yes, very appetising. Coffee to finish the meal really topped off a unique dining experience at Café Di Stasio, where our cappuccinos came out in different sized cups! Talk about having an eye for detñ

Duncan writes (visited Tue May 18 12:28:22 2004):
Absolutely scrumptious!!!!! Simply order off the 5 lunch menu, u simply can't go wrong!DELICIOUS!!

ADrian writes (visited Thu Feb 24 12:11:57 2005):
The best meal I've ever had in Melbourne, and one of the three best meals I've ever had in my life.
Recommended entree is Frittatina
Recommended main course is Veal

Nellie writes (visited Sat Feb 26 17:40:40 2005):
Sensational! Cafe Di Stasio lived up to its brilliant reputation. With its excellent service & food I couldnt ask for better.
Recommended entree is 3 Cheese Risotto
Recommended main course is Chargrilled Poussin (Chicken)
Recommended dessert is Proffita Rolls
Mietta's Eating & Drinking in Melbourne 2000:
It's impossible to get a simple recommendation for Cafe di Stasio.The place has lots of fans but many of them offer their raves with a disclaimer. It's also impossible to consider St Kilda restaurant culture without referring to what Di Stasio has done for the area. Before coming to Fitzroy Street ten years ago Ronnie had good experience working around town and learnt well. In matters of taste he knows where to get advice and the place and the food have always had a very distinct style. It's even more impossible for me to assess what is going on there. Too much history over too many years. Italians have long memories. Every city needs its myths and needs its gossip. Ronnie keeps us well-fuelled with both.
Last year it seemed that the restaurant was not getting his full attention and suffering. Since then, reports continue to vary. However the lunch menu remains one of Melbourne's great bargains.

Review
Ronnie Di Stasio is famed for his extreme behaviour in much the same way as his mentor Paul Lynch was in his younger days. It's what originally gave his eponymously named cafe it's buzz if they (the customers) mattered enough Ronnie would have them dancing on the tables. Today it's a much more sedate scene as well healed diners enjoy the discreet and attentive service at St Kilda's premier Italian restaurant. However, fine food, wine and service inevitably come at a premium price. The lunch special offers good value.
Other published opinions

The Age Good Food Guide 2005 "the team headed by Ronnie Di Stasio should be lauded for its dedication to things that matter: honest food that, while paying attention to what's around, bows neither to fashion nor fad; and waiters raised with an intrinsic understanding of hospitality and the dining experience."
Gourmet Traveller 2005 Restaurant Guide "afe di Stasio has achieved almost a cult status on St Kilda's increasingly respectable Fitzroy Street."
Take 5 John Lethlean 22/8/04 "Yes, it used to be a controversial kind of place; I prefer to think of Di Stasio as a restaurant that is not really into blandness. You have to be prepared to play the game, a little bit anyway."
The Age Melbourne Magazine 15/12/04 John Lethlean mentioned for Veal parmigiana - " But at Cafe Di Stasio, an escalope of excellent veal is egged and crumbed to order, pan-fried in butter and olive oil, smeared with a fantastic, bright and buttery Napoli sauce and blobbed with lumps of pure white buffalo mozzarella."
The Age Cheap Eats 2004,'A choice of three entrees,three mains,two desserts and two wines-and all for $25,seven lunches a week,With numbers this good,what are you waiting for?'
The Age, A2, 1/5/04,'This clubby St Kilda institution can inspire or confound-in no small part thanks to the influence of mercurial owner Ronnie di Statsio.His presence more often makes rathen than breaks a meal and seldom obscures the crisp service and the beautifully prepared Italian dishes'
The Foodies' Guide 2004,Allan Campion & Michele Curtis,'Perhaps the most advertised deal in Melbourne at $25 for 2 courses and a glass of wine,every day,year round.'
SMH GFG 2004,'the prices are on the upper side for Melbourne,but if you want a true Italian experience and you can visit only one local restaurant,this is it.Until you try the lobster frittata,you haven't really lived.'
The Age Good Food Guide 2004 Awards-2 hats, score 17/20, excellent wine list
The Age, A2, 20/3/04, Jane Faulkner,'an Italian focused dining institution in St Kilda, has been serving a fixed-price lunch...two courses and a glass of wine for $25...it might comprise dishes offered as daily specials, so it's another way diners can have some variety...there are added extras:proper napery, individual service, a comfortable dining room, and bread.'
Gourmet Traveller Restaurant Guide Australia 2004, 2 Black Stars, Excellent wine list, Good vegetarian options,'has mellowed and matured like a fine wine.Its simplicity and dedication to exacting professionalism assure its status as on Melbourne's elite Italian restaurants.The list of dishes and specials is expounded with minimal rhetoric;the quality of food shines through without pretension.'
VE+T, March April 2003,'Ever stylish place in the heart of St Kilda.'
The Age Good Food Guide 2003. Score 17/20. Briliant, simple Italian, produce-driven cooking.
The Herald Sun, Eat Bob Hart, 16/3/02. "Bob Hart experiences the food and the floor show at classy small restaurant."
The Weekend Australian Financial review,15-16/3/2003, Food, Charles Wright,' Cafe Di Stasio does a $19:95 lunch special everyday and patrons ever make a booking. But two months before the festival bookings began to pour in for restaurant week.'
The Age Good Food Guide 2003. Score 17/20. Briliant, simple Italian, produce-driven cooking.
The Herald Sun, Eat Bob Hart, 16/3/02. "Bob

Ronnie Di Stasio's restaurant in St. Kilda has always been one of my favourite eating places in Melbourne. His no nonsense approach to Italian food is a starving stomach's delight. The pasta, all made on the premises, is amongst the best you'll find anywhere and the way the pastas are cooked makes them really special.
I ordered the Fritattini al Taleggio, a wafer thin herbed fritatta topped with Taleggio cheese, a perfect match for the Di Stasio Chardonnay, served by the glass. The Di Stasio family has owned a vineyard in the Coldstram area for 6 years but the 1999 Chardonnay and 1999 Pinot Noir are the first vintages and both are served at the restaurant with all the labels handwritten by the matriarch of the Di Stasio family. The Chardonnay is clean, fresh, buttery and has some lovely floral aromas and the Pinot Noir is a fairly light style but very drinkable. The wine-maker for the Di Stasio wines is Mario Marsen from Mount Mary and a Mount Mary Pinot Noir is what I ordered to complement the Linguini with Duck Liver in a Wine Reduction. A match made in heaven and as I simply didn't manage to finish all the wine with this dish I had to order the Char-grilled Porterhouse with White Truffle Oil and Roasted Potatoes. The meat was succulent and cooked to perfection. There aren't many places that can do "blue" perfectly. The meal came to an end with the Gnocchetti of Ricotta and Home Made Ice Cream. The Gnocchetti were a dream, however I didn't like, nor understand the Maple Syrup that the plate was flooded with.
As usual, a fabulous meal, great service, a superb wine list, a fabulously well stocked bar, superb food and a great atmosphere

Ronnie di Stasio, restaurateur, Cafe di Stasio
'Agrodolce, bittersweet." That's how food writer and long-time friend Jill Dupleix once described Ronnie di Stasio. Born in Melbourne, raised in Thornbury, but with a distinctly Italian sensibility, Ronnie di Stasio, 49, is one of Melbourne hospitality's great characters: volatile, passionate, exuberant and full of cheek. Few people polarise opinion like di Stasio, but as the man says: "You can't be in this business without making enemies."
After a stint front-of-house at some of our more memorable eateries, including Mietta's and Lynch's, di Stasio (in partnership with Piero Gesualdi) burst onto the scene with Rosati: 500 seats in a converted Flinders Lane warehouse. From there he opened Cafe di Stasio, a little Italian place serving rustic food with a sophisticated vibe. St Kilda's well-heeled bohemians couldn't get enough of it, and 16 years later it's still going strong.
And despite his reputation as "difficult", he can't be that bad - he's had just two chefs in those 16 years. Restaurant manager Mallory Wall has been equally long-serving. Indeed, many of Melbourne's food and wine folk count him as a friend. He practises yoga and meditation, has an extensive collection of Australian art, and if he's never mastered the art of the long-term relationship, he has at least enjoyed a 14-year commitment to his cat. In short, di Stasio, as well as being a superlative restaurateur, is amass of contradictions. He shrugs, lifts his hands helplessly: "I'm a mystery to myself."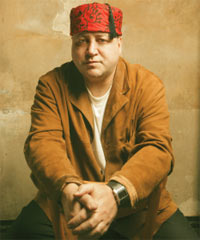 For the past nine years Cafe di Stasio, an Italian-focused dining institution in St Kilda, has been serving a fixed-price lunch; that's probably longer than any other Melbourne restaurant. And each week it changes.
The philosophy behind the separate fixed-price lunch (two courses and a glass of wine for $25) is to introduce people to the restaurant's fabulous food.
Restaurant manager Mallory Wall says this smaller menu, almost like a tourist lunch, is a traditional European way of eating. Besides, it might comprise dishes offered as daily specials, so it's another way diners can have some variety.
Another reason to enjoy Di Stasio's lunch is its pasta. A couple of weeks ago it was a simple, delicious entree of spaghetti with grilled eggplants.
The main of char-grilled venison with beetroot salad was OK; the sweet beetroot chunks a foil to the lightly smoky-flavoured meat, but a better choice was fish of the day - lightly grilled whiting fillets. And it's always necessary to order a side dish - perhaps a salad ($7) - to balance the meal.
The glass of wine is either a 2000 chardonnay or 2001 pinot noir from the Di Stasio Yarra Valley vineyard. Another chardonnay to last the lunch hour is $8.
It's easy to spend much more at Di Stasio's, (a caffe latte is $4.50) but it's by no means over the top, considering the quality.
Again, there are added extras: proper napery, individual service, a comfortable dining room, and bread.
Restaurateur head-butted diner
10jul03
RENOWNED Melbourne restaurateur Ronnie Di Stasio has been forced to eat humble pie after head-butting a restaurant patron.
The Melbourne Magistrates Court was told today Di Stasio's temper boiled over at the end of a drinking session at a friend's eatery.
Mr Di Stasio runs his own restaurant, Cafe Di Stasio in St Kilda, which has won plaudits from the critics and popularity with Melbourne diners.
Lawyer Steve Pica, for Mr Di Stasio, told the court his client had called one of his own waiters to drive him home from Bacash Restaurant in ritzy South Yarra on October 3, 2001.
But the waiter stayed and the drinking continued and it was not until 6am when the party prepared to move on.

The court heard Mr Di Stasio was discussing the bill with a Bacash waiter when the night turned sour.
Another customer, who was himself a lawyer, intervened, asking "what's the story?", the court heard.
"What are you saying fatso?" Mr Di Stasio then said.
"You're not exactly a pretzel yourself," came the reply.
Mr Di Stasio who had been drinking heavily, then head-butted the man who was left feeling dizzy and suffering a tender brow and a headache the next day.
By accepting a police summary of the facts, Mr Di Stasio today avoided a formal court hearing and a court record over the unlawful assault charge.
Instead he was dealt with by Magistrate Daniel Muling in the diversion program for first-time offenders.
Di Stasio, 48, of West St Kilda, was ordered to write letters of apology to his victim and to a police constable and donate $500 to the Salvation Army.