The Marque Hotel
35 Fitzroy St
Phone: 8530 8888
Fax: 8530 8800
Web: http://www.rendezvoushotels.com/html/melbourne/melbourne_index.htm
Email: reservations@marquehotel.com.au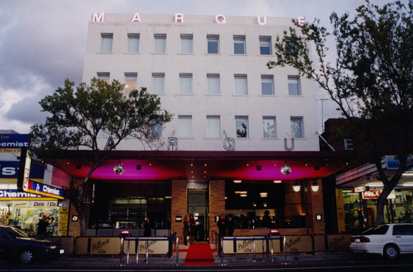 The hotel includes:

HUB BAR AND COFFEE SHOP
Located in the heart of "the strip". Relax al fresco street side, and watch the passing crowd while sipping a perfect cappuccino or perhaps be seen catching up on the gossip with friends at the bar over a crisp lychee martini - the choice is all yours. The extensive bar area is a great place to curl up and chill out or meet friends new and old year round.

SUGER
The ambient surrounds of Suger are the perfect setting for modern Australian cuisine. The diverse menu features market-fresh local produce, sourced daily, to create innovative dishes with an emphasis on flavour integrity and ingenuity. The extensive wine list has been hand selected to match the menu and comprises of local, interstate and international wines available by the glass and the bottle.Suger showcases stunning contemporary décor and is renowned for its attentive and non-intrusive service.
Opened early 2004