One Fitzroy Street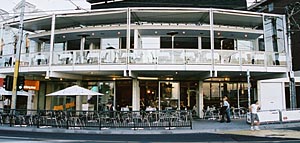 One Fitzroy Street
1 Fitzroy St
St Kilda (see map)
Phone: 9593 8800
Fax: 9593 8811
Web: http://onefitzroystreet.com.au/
Email: info@onefitzroystreet.com.au
Opinions
When I first came to St Kilda, this was an ice cream parlour with table soccer and a Star Wars pinball machine.
Rob.
As reported last week, Melbourne entrepreneur Chris Lucas and his partner, John Psanis, have sold Number One Fitzroy Street after nearly nine years: the buyers are brothers Sunny and Ahmet Gjomakaj, who formerly launched and operated the now-defunct Queen Street restaurant Medusas. Lucas, who owns South Yarra's Botanical, came to restaurants after a career in IT, and is widely tipped to have other restaurant projects in mind. Long-standing chef-partner Psanis is staying on as executive chef.
Epicure Dec 2004
The large room follows Fitzroy St around the corner. Its balcony overlooks the yachts at St Kilda Marina and the urban tangle of overhead tramwires along with their supporting poles. Heaters outside allow this perspective to be enjoyed most of the year. Service is good and efficient and the wine list is splendid - well priced with a good range of Australian and imported, particularly Burgundies. Half bottles suit lone diners. There are some edgy combinations of food but technique is good. Prices are very fair for the quality.
Mietta's
On a warm summers night St Kilda is the place to be seen and One Fitzroy Street is the place to be. Located on the corner of the Esplanade and Fitzroy St, you can view all there is to be seen including out into the bay. There is a range of food from pizzas, to pastas to salads and a reasonable wine menu. Kind of priced mid range. If you want something more up market try the more formal restaurant upstairs which has even better views!!!
Iagora
Quick Opinions
The Age Good Food Guide 2005 "THERE'S no denying the appeal of this comfortable fan-shaped dining room with its wellspaced tables and grandstand St Kilda views. But you can't eat the view. Paul Wilson no longer consults to the restaurant, the menu is more conservative and the food has lost a bit of spark."
AGFG 2004, score 14/20. excellent bar
The Age, Epicure, Restaurants, 29/4/03, John Lethlean, Score 14/20. It has improved and should continue to do so, but the cooking still requires more consistency. The wine list is impressive and has clearly been designed by an enthusiast.
The Sunday Age, Eat Streets, John Lethlean, 1/12/02. "Stuff the turkey on Christmas day? You bet, so give a gift of the best festive fare."
The Herald Sun, Food & Drink, Dining out, Stephen Downes, 9/7/02. Score 16/20. "Aspiring to the upper end of the brasserie market, one fitzroy street serves very professional, well-cooked and tasty dishes ina very competent manner."

Menu
| | |
| --- | --- |
| $ | entree |
| | |
| 17.50 | homemade saffron fettuccini with sauteed calamari, chilli and basil |
| 16.00 | atlantic salmon tartare - avocado, tomato and shallots with a salmon roe and lemon dressing |
| 15.50 | homemade pork and macadamia sausage with creamy mash, apple and tarragon jus |
| 17.50 | panseared sea scallops with crispy proscuitto and snow pea tendrils |
| 14.50 | fresh asparagus salad of peppers, grilled zucchini, roquette and grana padana with a honey mustard dressing |
| 16.50 | chargrilled chilli quail with pear, roquette and walnut salad |
| | |
| $ | main |
| | |
| 31.50 | number one's fish pie - ovenbaked fish fillet with white wine, truffle oil, fresh herbs and seasonal vegetables |
| 39.00 | number one's seafood plate - selection of fresh seafood with dukka spices and sauce vierge |
| 32.50 | cajun style whole fish of the day with fresh tomato, coriander and lime salsa |
| 31.00 | crispy skin wild barramundi fillet on warm potato salad and sauce gribiche |
| 32.50 | chargrilled black angus eye fillet with truffle infused mash and garlic confit and red wine jus |
| 28.50 | free range salsina filled chicken breast with eggplant tomato relish and balsamic glaze |
| 28.00 | ovenbaked lamb rack with caramalised onion and potato puree with tomato and basil jus |
| 26.00 | warm vegetable mille fuille - pumpkin, zucchini, leek, french beans and roquette with almond dressing |
| | |
| $ | sides |
| | |
| 6.50 | frittes. garden salad with french dressing. french beans, spanish onion and goats cheese salad. creamy potato mash. steamed broccoli and cauliflower with toasted almond and chilli |
| | |
| $ | dessert |
| | |
| 13.00 | almond flavoured panna cotta with praline and crostoli |
| 14.50 | rich chocolate and macadamia tart with valrhona chocolate mousse |
| 13.50 | baklava style icecream with honey and cinnamon sauce |
| 14.50 | croquembouche profiteroles filled with cream patissiere and grand marnier chocolate sauce |
| 14.50 | wild berry semi fredo with summer berry salad |
| 18.00 | selection of fine cheese from calendar cheese company served with walnut bread & housemade quince paste |
| | |
| $ | tea and coffee |
| | |
| 3.50 | own our blend 100% arabica bean coffee |
| 4.50 | "mariage freres" digestive teas paris, france choose from orange pekoe, earl grey or the unique marco polo blend of exotic chinese and tibetan flowers and berries |
| | |